Rib Steigen offer charter, transport, safari with our 36 feet Rib.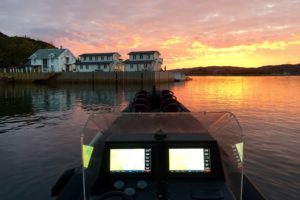 Transport and adventure in rough seas require good boat and crew. Safety is priority no.1.
The boat is in it's own legue. 36 feet and lots of engine power. CE category B offshore with winds up to 40 knots, Beaufort Force 8. Max waves 6,8 meters and certified for 12 passengers plus pilot & navigator. Boat are higily suitable for the ocean areas we operate. We have VHF, epirb, AIS and AIS transponder onboard. Our pilots have all sertificates needed.
Located at Nordskot brygge sea sport centre in Steigen middle between Bodø and Lofoten.
Nordskot Brygge offers stay for up to 22 people in our seaside cabins, boats for hire, sea-fishing and other sea-sport activeties. Also great tekking area.
choose to relax or stay Active.
Steigen have the highest population of sea eagles so chances are good for close contact with eagles on our boat trips.
If lucky we can also see whales i the Vestfjord.
Northern Light is a fantastic phenomena you often can experience between september-april.
We work close wiht our great close by neigbours; Manshausen Island, Naustholmen Adventure Island, Vila Haugen Boutique Hotel and Nordskot Brygge. This means we together can organize stay, food and activities for groups up to about 70 people.
Welcome onboard for some action with Rib Steigen.